This blog is going to focus on how to buy and modify the perfect bike commuter or entry level racing bike for $200 to $300.
This is going to be a steel, geared, road bike, that fits you, has aluminum 700c wheels and a three piece bottom bracket.
I'm going to focus on 3 aspects:
Your optimal commuting bike
A basic parts and modification guide
How to judge a bikes condition
*No this guide isn't the only way to do it!
Finding an affordable bike is the perfect way to: get fit, save money, and enjoy life's simple pleasures!
This is my guide, as a first generation immigrant who grew up dirt poor, and eventually flowered into a
"professional"
cyclist!
Bicycling as a transportation option.
Whether you're biking to your office job through the snow, or just want to whip around town without worrying about parking, this blog is going to set you up for the rest of your life on a bike. First, there's one thing you have to remember, bicycle commuting is a skill which you develop over time. This blog will focus on purchasing, and eventually maintaining your own set of wheels!
Know what you're looking for:


Types of bikes: Road
Regardless of everything that's out there, I'm going to focus on road bikes because of their affordability, availability and ease of use. Mountain bikes, hybrids, and BMX bikes all have oversized wheels, tires, and frames which impair your progress (through increased friction) down the road as a commuter.

Three types of road bikes.


Road bikes:
These bikes have anywhere from 10-30 gears. The gears are like your transmission. You shift to a lower gear to comfortably travel at low speeds or up hills, and you shift to higher gears to efficiently pedal at high speeds and or down hills. This is the best set up for a commuter bike.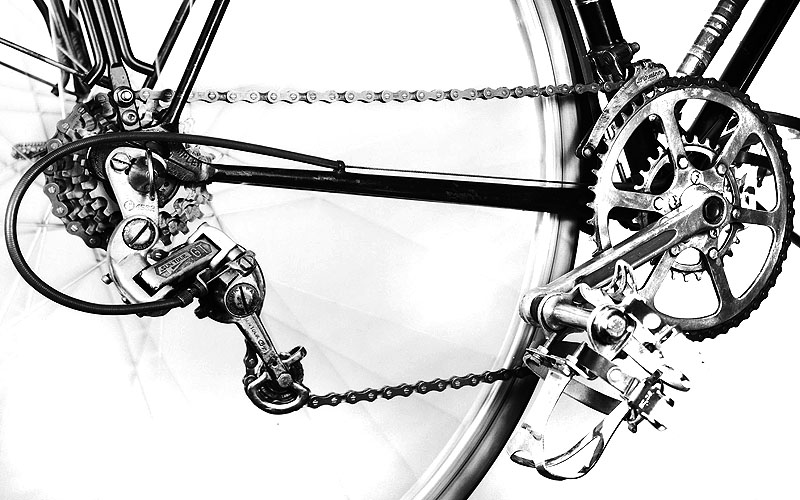 Fixed gears:
one gear that's fixed to your rear wheel which means you can't coast on your pedals. The only way you can stop is to try and pedal backwards, while you're pedaling forward at full speed. It's like driving a car that can only stop using the e brake. Because of its difficulty to control, this is a terrible option for a novice rider.
Single speed: Bikes with one speed. If you're going to be riding once a month with no hills, this may be a good starter bike for you. If you're going to try and commute on your bike every day, it might limit you. On the plus side, They are SUPER easy to maintain.


Material: Steel
Road bikes predominantly come in 3 different materials; Steel, carbon, and aluminum.
Carbon is prohibitively expensive and will begin to crack after 3-5 years.
Aluminum is much cheaper than carbon and the frames last a couple years longer but they produce a harsh ride.
Steel offers you durability, and absorbs road vibrations, making for a comfortable ride.
Steel will last you a LIFETIME.


Fitting: Make sure you can stand over the top tube.


Remember, you want to ride your bike everyday, which means you want to be as comfortable on it as possible! The simple way of doing this is measuring your inseam and figuring out what size bike frame you're going to be looking for. You're going to want something that gives you about 2 inches between your family jewels and your bike frame. After you've purchased your bike, I'm going to go over how to adjust your bike to fit your needs, but for now use the chart below to figure out your frame size.
http://www.ebicycles.com/custom/content_files/ebicycles-bicycle-sizing-chart-road-bikes.pdf
Seat adjustment:
You want to make sure your seat is perfectly level or two clicks tilted back. Your weight should be resting on your butt bones, NOT your hands.
Adjust your seat height:
The seat should be high enough that when you extend your leg, your heel (not your toes) perfectly reaches the pedal when it's in its lowest position. A seat that is too low hurts your knees, while one that is too high causes you to overreach and is bad for your hips.
Handlebar adjustment:
Sit on your bike, and grab onto your handlebars. Look down, and your handlebars should be blocking your view of the bikes front hub. If not, your bike might be too long/short for your reach and cause back pain. You can adjust this by moving your seat forward/backward, or installing a longer/shorter stem.
REMEMBER:
This is a recommended fit guide! Ultimately, what feels most comfortable with your body is what you should go with!!
Components: wheels, crank, bottom bracket, shifters (all the shiny parts on your bike frame)
Right now I'm focusing on how to buy a bike for $100 to $300 with working components.
Wheel size: 700c aluminum
Used road bikes are either going to come with 700c (cm) wheels, or 27" wheels. 27" wheels got phased out years ago. This means if you want quality tires (this matters if you're riding your bike every day), you're going to have to prioritize finding a bike that has 700c wheels. Bike shops will always have a large quantity of 700c tires at varying price points and varying levels of quality to fit your needs.
Wheel material: Old school rims are going to come in either steel or aluminum.
You want aluminum because its light and malleable, meaning when you hit a bump and your wheel goes out of true (gets wobbly) its more easily fixed. This affects you braking power as well as how easily you roll down the road.


Converting a bike from 27" to 700c rims: You can easily slap on a pair of 700c wheels onto any bike that has 27" wheels. You just have to note that because 700c wheels are slightly smaller you might have to buy long reach brakes or modify your existing brakes to reach the braking surface on a 700c wheel.
Bottom bracket: 3 piece bottom bracket
The three pieces include the bottom bracket, and a crank arm on each side.
Make sure you bike isn't a single piece bottom bracket! This means that both crank arms and bottom bracket are all one metal piece. This makes pedaling drastically harder.
Also make sure that your cranks spin smoothly without any side to side movement. This means the bearings inside are either loose or worn, and need to be adjusted. Having a bike with a sealed bottom bracket (no loose bearings) gives you the advantage of never having to deal with this problem again!
Gears: Downtube friction
At this pricing point you're probably going to get downtube friction shifter which are fine for commuting, but not good for racing. If you want to move on to brifters (brake/ shifters) or bar end shifters using the same cable mounts your downtube shifters use.
Now I'm going to teach you how to judge a bike quality.
1. Frame: Inspect the integrity of the frame by making sure there are no cracks in the welds or dents in the tubing. Do this carefully! hairline fractures sometimes slip away from even the most expert mechanics!
2. Check for Loose parts: Bounce the bike on both tires by dropping it from about 2" off the ground. If you hear something's loose or rattles instead of a solid bounce this is bad news. The bike needs adjusted.
3. Listen for grinding: This is the granddaddy of them all!
1) Have someone lift the bike in the air for you, then proceed to place your ear on top of the front tip of the seat. You should be hearing something similar to when you put your ear up to a seashell.
2) Spin the front wheel and listen. Spin or move any rotational part: wheels, handlebars, cranks. This will permit you to hear any grinding in the moving parts which means the specific part your testing is maladjusted, or worn out and about to go. Some of these problems take more time and effort to fix than others.
4. Adjust your seat height: The seat should be high enough that when you extend your leg, your heel (not your toes) perfectly reaches the pedal when it's in its lowest position. A seat that is too low hurts your knees, while one that is too high causes you to overreach and is bad for your hips.
5. Ride it! Cruise around making sure YOU like your bike. Think of this as choosing a girlfriend (or boyfriend!), this is a long term relationship, and the last thing you want on a long ride is a nagging pain!
1) Go through ALL the gears making sure they shift smoothly.
2) Test the brakes!
3) Make sure you can powerfully pedal in each without the chain "slipping", or skipping onto another gear on its own.